20

%

Off
All Products
VIP members will receive 20% off all products, plants, and fish for an entire year.
Will receive reduced shipping prices on fish
Full Access to Our Fish Health Expert
VIP members will be able to reach out to our Fish health expert with any questions regarding your fish.
He will be able to help you troubleshoot any fish issue, advise you on the medication your fish may need, and recommend how to take care of your pond.
Sign Up Now
Access to Koi before they are on the Website
It is a process for us to upload all of our thousands of fish to the site. Our VIP members will have special access to order koi before they are uploaded to our site. We can set up an appointment for you to hand pick your fish at our farm, or contact us directly if what you are looking for is not on the site.
Exclusive Visits to Our Koi Farm
We Just Moved To This Beautiful New Farm In Milford, NJ And Our VIP Members Will Get Exclusive Access To Visit The Farm. Our Farm Has Multiple Greenhouses, With Over 20 Different Fish Tanks, And A Variety Of Aquatic Plants.
Each Tank Is Separated By Breeder And Size Of Fish. Coming To The Farm Is A Great Way For You To Hand Pick Your Koi And To Get A Feel For What It Is Like To Buy Fish In Japan.
Sign Up Now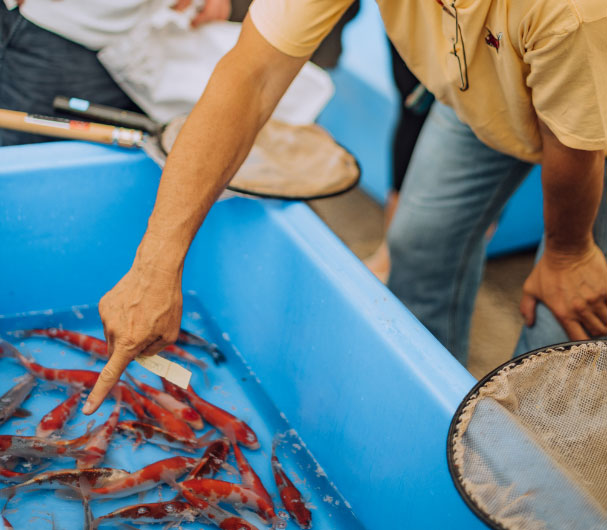 $199 Annual Fee
First Picks on Fish When in Japan
Every year we go to Japan to hand pick beautiful Japanese Koi from a variety of breeders. We will share photos and videos of the types of fish we are bringing back with all our VIP members while we are still in Japan.
VIP members will get first pick on the fish before we bring them back to the U.S.
Sign Up Now
Access to our complete staff for any questions
Our staff can answer any of your questions/concerns about your ponds, waterfalls, filters, fish, plants, and more!